This is the 1080 Mini.
Replay XD 1080 Mini has been reengineered and retuned. We took the popular XD1080 HD Camera and the miniature XD720 and combined the best of both. You now get 1080p Full HD video and high resolution Photos along with some of the most regarded XD1080 features packed into the smallest and lightest HD camera on the market.


Pro Mounts (Aluminum)
Optional billet-aluminum pro mounts are available for the most demanding action and motorsport applications. Tubular, Flat, Curved, Tripod, Universal, & Specialty mounts are available.
Natural Wide View



Replay XD 1080 Mini features a custom designed lens that is hand picked and finely-tuned to give your video better clarity, accurate color, all with minimal image distortion.
Replay XD 1080 Mini can also use aftermarket lenses and filters with the removable front lens bezel to accept our ProLens 37MM Adapter

Waterproof without a Case
We made it waterproof so you don't need a case, just in case you like that. Replay XD 1080 Mini features a high-strength aerospace aluminum body – Mil-Spec hard-anodized for unmatched ruggedness.
To keep the Replay XD 1080 Mini cool looking and even more versatile, we've built in waterproof to 3 meters / 10 feet. Replay XD 1080 Mini features a double o-ring sealed lens bezel, rear cap, and top push buttons to keep out those harsh elements. You get to keep the benefits of a small and light HD camera.

Get your ReplayXD Mini today!

"The ReplayXD comes ready to go out of the box! Just slip in the SD card and start shooting! The Camera comes with a 4GB Micro SD Card. Which is enough for about 45minutes of footage. Eventually one might consider upgrading to 8GB or 16GB for longer recording time. One can simply take the card out and plug it in a computer to view the footage. Empty the footage off the card on to your computer to make room for videos. Once the card is empty plug back into your camera and away you go! If you plan on mounting your ReplayXD on a roll bar or wheelie you will need the billet aluminum Roll Bar Clamps which are NHRA & IHRA approved. View the Pros & Cons Section to right and if you have any TECH questions feel free to call us 1/800-576-7661 or email us sales@dragparts.com" -James Video Tech at GoodVibesRacing.com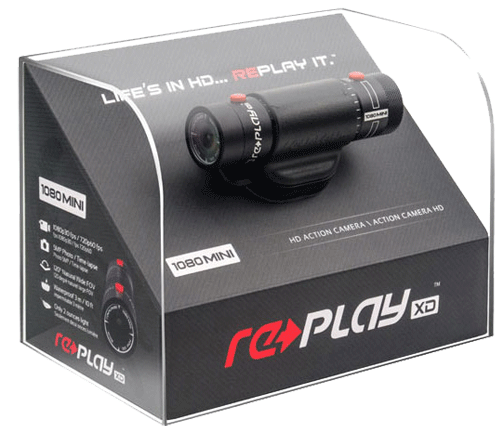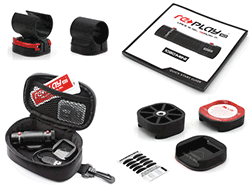 60 Frames Per Second
Capture smooth video at 60 frames per second at 720p. You can record at 30 fps or record at 60 fps to play smooth video, at full speed, or see even more detail when you slow it down, frame-by-frame.

You can still Mount it Anywhere.
Mount the Replay XD 1080 Mini anywhere. The all-round shape and small size truly make this camera the most versatile. There are two mounts included with each system to get you recording in no-time.
LowBoy Mount (Fixed): Lowest profile mount, offers 360º lens rotation. Designed to be low and out-of-the-way. Compatible with our SnapTray VHB bases.
HeimLock Mount (Swivel/Tilt): Features spherical adjustment with an eccentric cam-lock for a rock solid mount. Over 1,036,800 Mounting Positions with 360º lens rotation, 360º camera rotation, and 8º of tilt, not including the unlimited areas you can mount 1 of 4 included SnapTray VHB bases.
There are 3 mounting bases included with each Replay XD 1080 Mini: 1 Flat SnapTray, 1 Curved SnapTray each with 3M® VHB adhesive for a secure hold and 1 Tripod SnapTray for any 1/4-20 mount.

A Simple Touch
The Power and Record buttons require one simple touch, with vibration feedback and indicator lights for each command. You can also turn on the "One-Touch" feature to make it even easier to Record.
A Simple Switch
Switch from 1080p 30 to 720p 60 fps or Internal Audio to External Audio with the flip of a switch. Replay XD is the standard for simplicity. You can also custom program your camera through the Advanced Settings file.
Smallest & Lightest HD Camera
Replay XD 1080 Mini is still smaller and lighter than the competition. With its ultra-low profile and small size, Replay XD 1080 Mini is perfect for weight demanding applications.

Compared to Go-Pro "Leading"
Go Pro is the leading action camera in the industry right now. Why choose Replay over Go-Pro? Well its comes down to what are you shooting / filming? If your objective is to capture in car footage of a race car well then you most likely want to go with a Replay. If you want a monitor on the back of your camera like you can with the Go-Pro where you want to see what you are shooting then you might want to consider going with a Go-Pro. The nice thing about the ReplayXD is that it vibrates when you turn it on and off. So if you are sitting in a race car and you want to turn the camera on but you can't see the camera you can feel
Pros & Cons ReplayXD Mini vs Go-Pro Hero 3+ Black
ReplayXD Mini Pros
Go Pro Pros
Simple - 2 Buttons
On / Off - Start /Stop
Screen on the Front lets you know what mode the camera is set at
No Extra Case for Mounts
Clip on Monitor & HDMI Output
Ready to go out of the box
Flashing Light on the Front lets you know the camera is recording
Vibrates / Buzz
Optional Remote to control the Camera
Optional Billet Clamps NHRA / IHRA Approved
Waterproof
Waterproof with a case
Light on top of the camera
Optional App to control the camera
Affordable Price $199
Makes a beeping noise when given an action Ex: Turned On or Off
ReplayXD Mini Cons
Go-Pro Cons
No 4K ability
Doesn't Vibrate / Buzz
No Wifi or Bluetooth
Must be inside a case
No wall charger only a USB charger. Which can plug into a USB wall charger or a computer
Flashing Light on the front lets you know the camera is recording / can also be seen a distraction for racers
No way to add a monitor to view what you are recording
Price $399