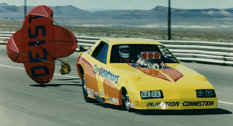 Good Vibrations is a blown alcohol funny car campaigned by Jim and Marion Maher. They have competed on the California Independent Funny Car Association (CIFCA) circuit since 1986.
Maher not only raced on the CIFCA circuit but he was also at the helm of this association from 1989-2004.
Thanks to all of those that have been a part of our team. From fan to crewmember, we love you all and God bless.
The Good Vibrations team won an unprecedented 5 CIFCA Funny Car Championships !