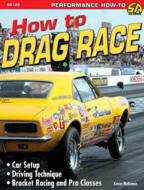 How To Drag Race
By Kevin Mckenna

From race registration to the finish line and everything in between, How to Drag Race explains all the steps for successful drag racing, so the aspiring drag racer can easily setup his or her car, launch off the line, and quickly run at every racetrack. It offers the first comprehensive description of every aspect of drag racing, including car set up, driving techniques, class information, and getting active in racing at the local level.

Author Kevin McKenna, senior editor at National DRAGSTER, NHRA's weekly news magazine, uses 300 color photos to show you what to expect your first time out, how to set your street car or race car up for consistency and speed, and driving techniques for racers at all levels. He discusses tires, safety equipment, driving aids, such as line-locks and delay boxes, choosing a class, and advanced racer math. Special sections detail how to maximize your setup and strategy bracket racing success. If you have ever thought it would be fun to give drag racing a try, this book is for you.

If you have ever thought it would be fun to give drag racing a try, this book is for you.


Funny Car Fever

by Steve Reyes
There wasn't always a class for these "funny-looking" cars. In the mid-1960s, many of drag racing's fastest drivers were outgrowing the Super Stock and Factory Experimental classes, building cars that stretched and eventually broke the rules. Promoters discovered they could pair up these altered-wheelbase, injected, blown machines in exhibition match races—and the spectators came running. Rivalries were born, the Funny Car class was created, and the cars kept getting faster and faster.

Funny Car Fever is a humorous, heart-felt, first-hand account of the most exciting and memorable years of the Funny Car class. Steve Reyes followed these fiberglass-bodied, nitro-burning machines and their drivers from the years leading into Funny Car class through its halcyon days. He's included over 400 of his favorite images and more than a few never-before-heard stories to bring the feeling of the class and the era home to you.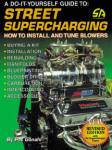 Street Supercharging, A Do-It-Yourself Guide To
By Pat Ganahl Build a Supercharging Street Screamer
Buying, Installing, Tuning Blowers

STREET SUPERCHARGING is the hottest book about today's hottest performance topic. For brute horsepower, nothing can equal a high-winding supercharged engine, and this quality book is the definitive reference of modern supercharging science. From basic design and selection to hands-on installation tips, this easy-to-read book explores many types and brands of superchargers. Technical and practical advice from top experts is included in every chapter. Includes listing of blower and accessory manufacturers.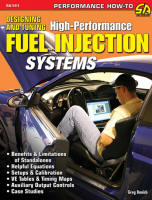 Designing and Tuning High-Performance Fuel Injection Systems
by Greg Banish

So you've decided that fuel injection is for you, but want to know more. Many questions surround what appears to many as more of a black art than science. Engine tuning used to be the hallowed ground of vehicle engineers and cutting-edge hot rodders. For years, the carburetor filled the needs of enthusiasts and provided simple adjustments at the end of a flat-bladed screwdriver. But today, electronic controls for engines are the norm. Even the casual enthusiast who actually drives his favorite hot rod on the streets can easily see the benefit of increased precision when he fires the car up for the first time each spring. A properly tuned EFI system rarely needs anything more than the turn of the key to come to life.

Following up his best-selling title, Engine Management: Advanced Tuning, author Greg Banish goes in-depth on the combustion basics of fuel injection as well as benefits and limitations of standalone. Designing and Tuning High-Performance Fuel Injection Systems will help you learn useful formulas, VE equation and airflow estimation, and more. It also covers setups and calibration, creating VE tables, creating timing maps, auxiliary output controls, and start to finish calibration examples with screen shots to document the process. Useful appendixes include a glossary and a special resource guide with standalone manufacturers and test equipment manufacturers.
Aftermarket standalone systems are a great way to dial in performance and reliability. Designing and Tuning High-Performance Fuel Injection Systems is the book you need to become an expert in this popular modification.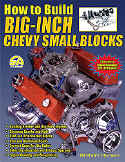 How To Build Big-Inch Chevy Small Blocks
by Graham Hansen 128 Pages 320 Photos

Have you been bitten by the big-cube bug? The quest for big cubes doesn't have to lead to a big block anymore. Now you can add cubic inches to your current power plant without having to swap intakes, headers, motor mounts, and other accessories all at once.
By building a big-cube small block, you can have all the additional torque and horsepower of a big block, without all the extra weight, expense, and effort. In this book, Graham Hansen takes a step-by-step approach to selecting the best OEM or aftermarket block, crank, rods, and pistons to construct your big-inch short block. He also discusses how to select the best heads, cam, and induction and exhaust systems, specifically for a big-inch engine. In addition, the final chapter includes seven different combinations for big-inch power, complete with dyno graphs!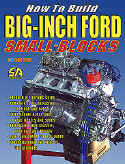 How To Build Big-Inch Ford Small Blocks
by George Reid 128 Pages 300 photos

Have you been dreaming about a little extra displacement for your Ford? By increasing the bore and stroke of your current engine, you can add those cubic inches without the hassle of switching to a big block.
George Reid thoroughly explains the concept of building a stroker, paying special attention to the effect that increasing the bore and stroke have on the engine as a whole. With this information, you'll be better able to tailor your heads, cam, intake manifold, carburetor, and exhaust system to get the most out of the extra cubes.
Also included is a complete guide to factory head and block castings, as well as aftermarket block and head guides, so you can choose exactly the right parts for your project. This book is the definitive guide for building a big-inch Ford small block, complete with four engine buildups ranging from 331 to 408 cubic inches.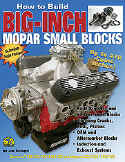 How to Build Big-Inch Mopar Small-Blocks
by Jim Szilagyi 128 Pages 350 photos

At one time, if you wanted big horsepower in your Mopar muscle car or truck, your choices were limited to a big-block swap or a coveted Hemi. At the very least, you needed different engine mounts, K-members, transmissions, headers, etc. – and Hemis have never been cheap!

But now there's another way to get more horsepower: boring and stroking your Mopar small-block to get more cubic inches – up to 476 cubes! The small-block Mopar is one of the easiest engines in which to increase displacement without extensive modifications or specialized machine work – the engine was practically designed for more cubes! This book shows you how to get that big-cube power, and then it shows you how to optimize the small-block's other systems – induction, heads, valvetrain, ignition, exhaust, and more – to make the most of the extra cubic inches.

Author Jim Szilagyi is a Performance Specialist for Dodge Motorsports and Mopar Performance Parts. In this book he covers building big-inchers from Mopar 318/340/360 -ci LA or Magnum 5.2-/5.9-liter engines, using both factory and aftermarket parts. If you want to make big power from your Mopar small-block, this is the book for you.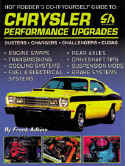 Chrysler Performance Upgrades
Dusters, Chargers, Challengers, Cudas Author Frank Adkins is a trained ASE Certified Master Technician and Chrysler aficionado




Written for the "nuts and bolts" level Chrysler enthusiast, this book covers virtually every aspect of performance improvement including engine swaps, suspension upgrades, transmission mods, brake improvements, rear end interchanges, etc. Ten chapters cover all aspects of performance improvement on Chrysler muscle and performance cars of the '60s and '70s. Included is information on installing an electronic ignition and electronically regulated charging systems for vehicles not so equipped. Frank Adkins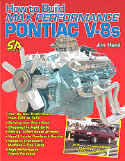 How to Build Max Performance Pontiac V8s
by Jim Hand 128 Pages 300 Photos.

Have you been searching for a book dedicated strictly to Pontiac performance? Look no further — How to Build Max-Performance Pontiac V-8s is the one you need. From the 287 to the mighty 455, from Tempests to Tri-Powers, this book covers it all.

Pontiac performance began back in 1955 with the mid-year introduction of a 4-barrel induction package. From there, the performance people at Pontiac upped the ante year after year, putting together performance packages for the 326, 389, 400, 421, and 455-cubic-inch engines. From Tri-Powers and Ram Air packages to factory cast headers, Pontiac has a performance and racing history as memorable and unique as any.

Author Jim Hand begins with a year-by-year timeline, tracing Pontiac performance packages from 1955 through 1979, and then moves on to chapters on bottom end parts, and cooling, oiling, and ignition systems. He has also included special sections on the available carburetors including Tri-Powers, Q-Jets, Thermoquads, and AFBs, as well as detailed info on head porting and exhaust systems, featuring quantitative flowbench and drag-strip results. If you want to increase the performance of your Pontiac, How to Build Max-Performance Pontiac V-8s will show you how.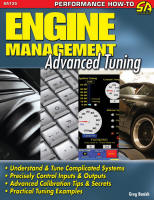 Engine Management Advancing Tuning V8s
by Greg Banish 128 pages

As tools for tuning modern engines have become more powerful and sophisticated in recent years, the need for in-depth knowledge of engine management systems and tuning techniques has grown. Tuning engines can be a mysterious art, all engines need a precise balance of fuel, air, and timing in order to reach their true performance potential.

This book explains how the EFI system determines engine operation and how the calibrator can change the controlling parameters to optimize actual engine performance. Engine Management: Advanced Tuning takes engine-tuning techniques to the next level. It is a must-have for tuners and calibrators and a valuable resource for anyone who wants to make horsepower with a fuel-injected, electronically controlled engine.

Author Greg Banish is a calibration engineer with extensive aftermarket performance calibration experience. He has a BSME from GMI Engineering and Management Institute (Kettering University). With over a thousand unique calibrations performed over five years, he has worked with enthusiasts and OEMs alike to improve the performance and driving behavior of a wide range of vehicles.

The book contains detailed equations, graphs, and illustrations. Also included are valuable and practical examples, including real-world examples based upon the author's experience that will help more advanced readers apply this new information to situations that are commonly seen during calibration.
Publication Date:04/10/2007 Publisher: CarTech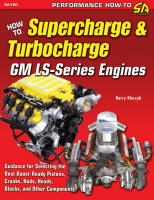 Supercharge & Turbocharge GM LS-Series Engines
By Barry Kluczyk

GM LS Series engines are some of the most powerful, versatile, and popular V-8 engines ever produced. GM LS series engines deliver exceptional torque and abundant horsepower, they are in ample supply, and a massive range of aftermarket parts are available. Some of the LS engines produce about one horsepower per cubic engine in stock form-that's serious performance. One of most common ways to produce even more horsepower is through forced air induction-supercharging or turbocharging. Right-sized superchargers and turbochargers and relatively easy tuning have grown to make supercharging or turbocharging an LS-powered vehicle a comparatively simple yet highly effective method of generating a dramatic increase in power.

In How to Supercharge and Turbocharge GM LS Series Engines, supercharger and turbocharger design and operation are covered in detail, so the reader has a solid understanding of each system and can select the best system for their particular budget, engine, and application. The attributes of Roots-type and centrifugal-type superchargers as well as turbochargers are extensively discussed to establish a solid base of knowledge. Benefits and drawbacks of each system as well as the impact of systems on the vehicle are explained. Also covered in detail are the installation challenges, necessary tools, and the time required to do the job. Once the system has been installed, the book covers tuning, maintenance, and how to avoid detonation so the engine stays healthy. Cathedral, square and D-shaped port design heads are covered in terms of performance, as well as strength and reliability of the rotating assembly, block and other components. Finally, Kluczyk explains how to adjust electronic management system to accommodate a supercharger or turbocharger.

How to Supercharge and Turbocharge GM LS Series Engines is the only book on the market specifically dedicated to forced air induction for LS series engines. It provides exceptional guidance on the wide range of systems and kits available for arguably the most popular modern V-8 on the market today. Publication Date:06/17/2010 Publisher: CarTech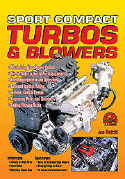 Sport Compact Turbos & Blowers
by Joe Pettitt 128 Pages 300 Photos

Lightweight and high-revving, sport compacts are today's most popular cars. They have developed a cult following among today's youth and are fueling a multi-million dollar industry in modification parts and equipment.

While most owners of sport compacts can afford the simple bolt-ons available, some owners want to take their modifications a step further. There is intense competition to be the fastest, and quite often the only way to win is to go to the next level – by installing a supercharger/blower or turbocharger on your engine.
This book is an enthusiast's guide to understanding and using turbochargers and superchargers on sport compact cars. It covers the basics of each system and compares their pros and cons. Building and tuning small-displacement 4- and 6-cylinder engines to maximize performance and reliability with forced induction is also covered.