Heavy duty coolers feature 5/8" tubes with Turbulator cooling fins, 11/32" multi-barb fittings and durable mounting brackets for secure vehicle attachment. Kits include transmission oil hose, illustrated multilingual instructions and all necessary mounting hardware. Cooler coils are also available with optional 3/8" female pipe thread fittings for use with braided steel lines (sold separately).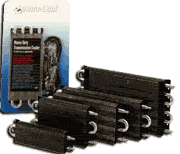 Maximum Cooling for Extreme Service Applications.
Rugged 1.5" Think Design.
Ideal for Performance Vehicles with High Stall Converters.
Applications: Tow Vehicles, RV's, Police cars & Taxi's
Available in 12,000 to 30,000 Gross Vehicle Weight